Courtney received a Master's in Counseling Psychology with an emphasis on Trauma and Addiction. She is with our therapy practice to help you navigate those unresolved issues that are holding you back in life. Her approach provides a safe haven for those who are feeling displaced and want to be accepted in this fast-paced world.

Courtney worked on the West Side of Chicago with a population who experienced homelessness, addiction as well as dual diagnosis. Her different modalities help support the clients she serves. Therapy is not a one size fits all, and Courtney will work with you to find what is the best approach to fit your needs.

Additionally, Courtney brings a unique experience to the table with having a physical disability herself. She is well versed in the world of disability whether that be in an intellectual or physical challenge. She takes a holistic approach that embraces positive change in any way shape or form.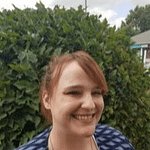 "When a person walks through the door, my number one goal is to treat them with the respect and dignity they deserve. I welcome you to my judgment- free zone, to explore any emotions that may arise!"