Amy Druzik is bringing to Life Synergy over 10 years of experience in the social work/counseling field. She possesses a Master's Degree in Counseling Psychology along with a Bachelor of Arts in Psychology with a Minor in Women's Studies. She has worked in a variety of diverse therapeutic settings including domestic violence shelters, a child and adolescent residential center, local high schools and small counseling firms. Her therapeutic approach is centered around her ability to build a strong empathetic relationship with each individual client while creating a safe and secure space where understanding, personal growth and positive change can occur.

The types of therapy models she utilizes most are client centered, cognitive behavioral, mindfulness and solution focused. Amy specializes in anxiety, depression, personality disorders, bipolar disorder, ADD/ADHD, self-injury, obsessive-compulsive disorders, cancer diagnoses, relationship issues, LGBTQ matters, and adolescent issues/parenting concerns.

Amy's hobbies include knitting, drawing and painting, and the occasional Netflix binge. She also likes to go hiking and camping, seeing live music, and trying out new restaurants. Her favorite people to do these activities with are her close friends and family.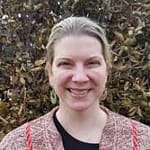 "I am passionate in my work; while helping individuals understand the nature of addictive behaviors and breaking cycles of dependency. My positive approach embraces therapeutic strategies and stress reduction techniques. The connection is a result of the mutuality of true caring and respect; essential to the healing process and renewed well-being."